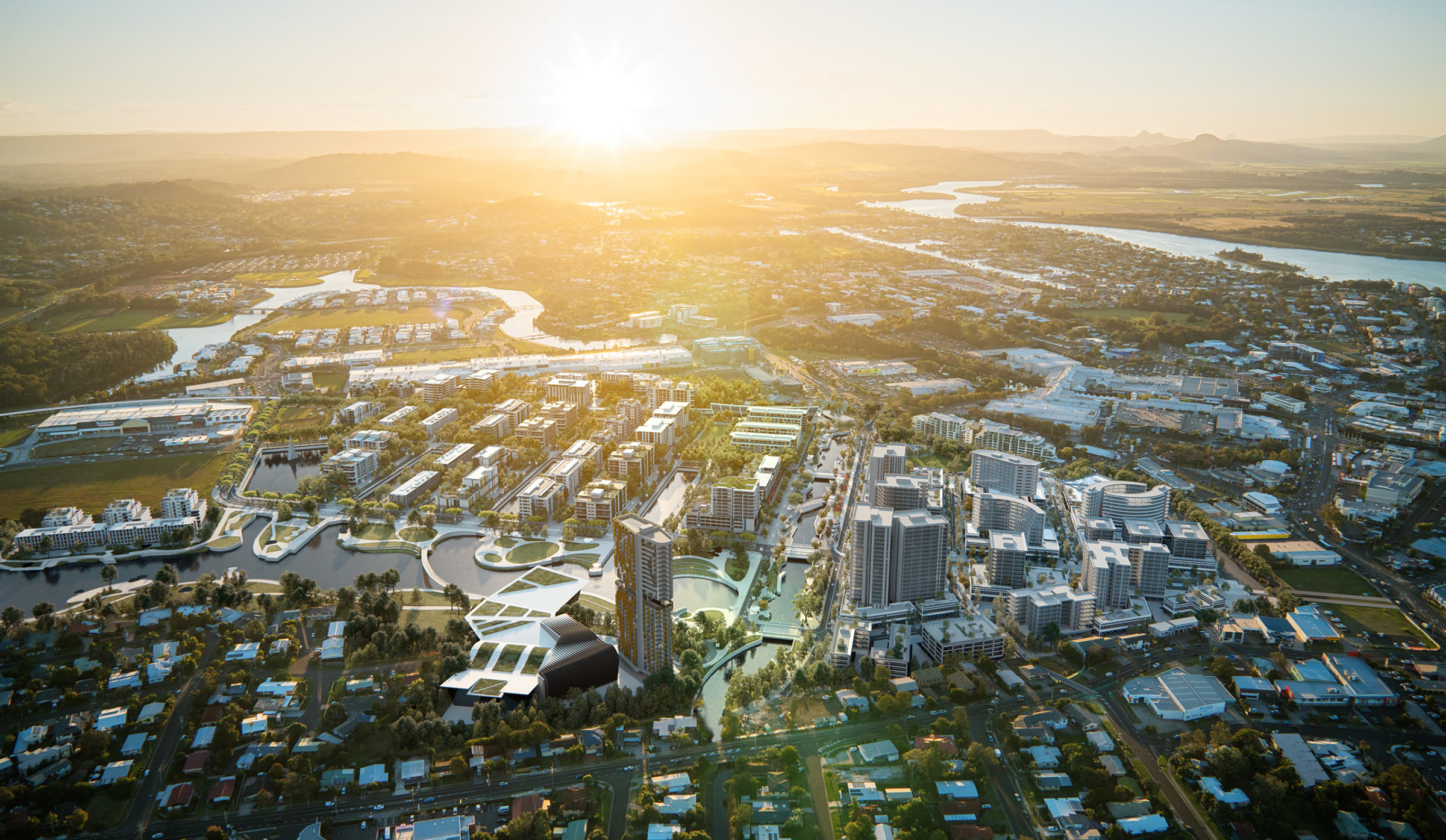 A bright city hits the
world stage
SunCentral
|

Maroochydore
From sleepy town to energised, thriving, future-focused city.
Services
CGI
Place Branding
Place Visioning®
CHALLENGE
With an entire new 53-hectare CBD planned, SunCentral needed to develop a vision for the city that would shift traditional perceptions and drive investment and business development opportunities, locally, interstate and overseas. A clear purpose and meaning was required that would differentiate Maroochydore from other Australian cities.
APPROACH 
Research showed that the Sunshine Coast and SunCentral lacked business focus in the eyes of investors and businesses. Hoyne developed a vision for Maroochydore as a vibrant new commercial, residential, cultural and entertainment precinct. It was recommended that the name remain; Maroochydore is Maroochydore and any change would be confusing and result in the loss of existing community connections. Instead it was perceptions that need to change. Maroochydore could no longer be regarded as 'God's waiting room', rather, it is a city of the future and a breeding ground for success. 
Working with SunCentral, Hoyne contributed numerous ideas – including smart building technologies and additional environmental initiatives – to increase Maroochydore's ability to stand out from other Australian cities, and to foster and support business growth and prosperity for the region. We also recommended Council take control of the architectural and aesthetic vision, particularly for first stage buildings, thus setting the scene for the decade ahead. 
A positioning was developed to communicate the new Maroochydore – The Bright City. Hard facts underpin the brand. The new city will be 'smart', with state-of-the-art technology providing digital solutions for street lighting, car parking, water, power and signage and it will be serviced by an underground automated waste collection system. The ultimate vision was depicted in vibrant detail and brought to life through visionary CGIs and VR. This is a place where more than 2,000 residential apartments will be a five-minute walk from the CBD's professional and business services in addition to hotels, restaurants, shopping and waterways. 
RESULTS
Maroochydore proves how clever thinking in the early stages can speed up investment, leading to social and economic benefits for decades to come. Early branding has established a strong message to engage the local community and attract investment and business from interstate and overseas. The Mayor of Maroochydore has unveiled 'The Bright City' both locally and throughout the USA. It has attracted major interest including from global infrastructure and property development company John Holland, which has signed a $200 million MOU for the development of multiple lots within the site.