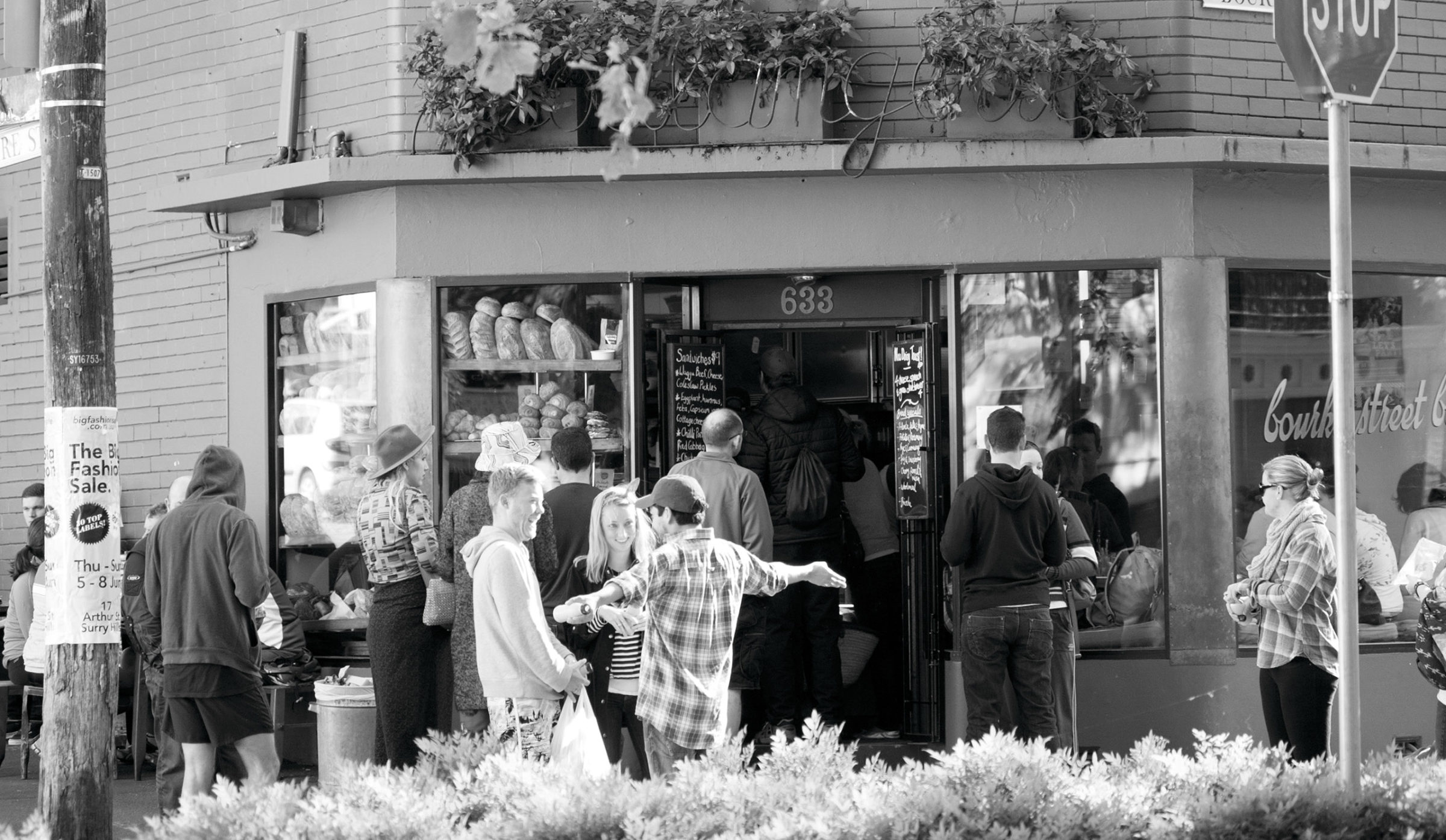 5 Takeouts for Creating a Loveable Community – The Surry Hills Story
Insights
|

16 07 2019
The Place Economy team gets to know why Sydney-siders have a soft spot for inner city suburb, Surry Hills. After years down-at-heel, characterful Surry Hills has morphed to become one of Sydney's best liveability performers, scoring top marks for culture, cafes and restaurants, shops, buses and proximity to employment hubs. But it's the passionate locals that really set it apart.
Here we set out 5 key take-outs from The Place Economy Volume 2 that make a suburb loveable.
01-MADE TO MINGLE
Surry Hills' colourful undesirability of the 80s turned characterful desirability of today is shaped by family friendly parks, a mix of businesses, retail, restaurants, pubs and cafes. Stitching spaces and events into the area that encourage social and neighbourhood interactions has been key to families recognising that Surry Hills could be a longer term proposition than before. And it's this point that we forget to appreciate. Longer term tenancies are the building blocks for communities; communities are built on relationships and relationships tend to encourage mingling.
As observed by a contented resident, "Living in the inner city you have much more contact with your neighbours and the other parents around because the kids aren't playing at home or in the backyard – we're all going to the park."
02-WALKABILITY
Property publication Domain ranked Sydney's Surry Hills 42nd out of 555 Sydney suburbs based on liveability. In October 2018, Surry Hills was sitting in the Top 20 walkable suburbs in Domain's Healthy Sydney study (authored by Deloitte Access Economics and Tract Consultants) based on its access to shops, transport and work. Today, walkability is a key metric for liveability, and Surry Hills has it in spades. Green spaces, entertainment and services – it's all a walk away, and if it's a set of wheels you'd prefer, formal bike lanes are supplied.
03-ARCHITECTURALLY VARIED
When a suburb is built on a diverse housing mix, we see character woven into the local culture through the people and the businesses it attracts. Surry Hills is a case in point. The suburb has benefitted from a diverse housing mix, including terraces (as well as duplex terraces where people could live above and rent below), cottages and shop houses. Around 1950, zoning was introduced, and a light industrial element added a mixed-use character to the residential typology mix. Later, a layer of gentrification was added such as landscaping, parks and investment in businesses. The removal of one-way streets, high traffic and the through traffic to the airport helped to amplify that mix. Today, this combination contributes to Surry Hills' appeal, aiding its reputation as not only a great destination for people to visit, but an exciting, dynamic and well serviced place to live. 
04-AGE APPROPRIATE
It's hard to build community when your neighbours are always moving on. But once people started to stay longer, that's when streets became neighbourhoods, neighbourhoods became communities and houses became homes. When a community can mingle, people have an in-built mechanism for a broad range of social and support needs. Loveable suburbs are age-agnostic. They support multigenerational living. In fact, they're designed to do so. Surry Hills provides this magic on multiple levels. It's no wonder it rates consistently in liveability studies.
05-SOCIALLY DIVERSE
Sitting in his surgery on Crown Street, Peter Brown, GP in Surry Hills since 1981 says, "The things that haven't changed would be the mix of people here. You've still got the housing commission residential developments, pockets of ethnic people and there's been a move of younger professional people into the area."
One of the draw-cards most evident in Surry Hills over the past two to three decades has been the diverse mix of ethnic and socio-economic groups. In fact, from a cultural perspective, the 2016 Census showed that just 42.1 per cent of Surry Hills' population were born in Australia.  The rest were made up of, among others, English, Thai, Chinese, New Zealanders and Americans.
Diversity doesn't just add to a suburb's creative and cultural maturity. Benefits extend to economic growth through business and entrepreneurial initiatives, customer and client service in the workplace, social perspectives, insights and knowledge building.
You Might Be Interested In: