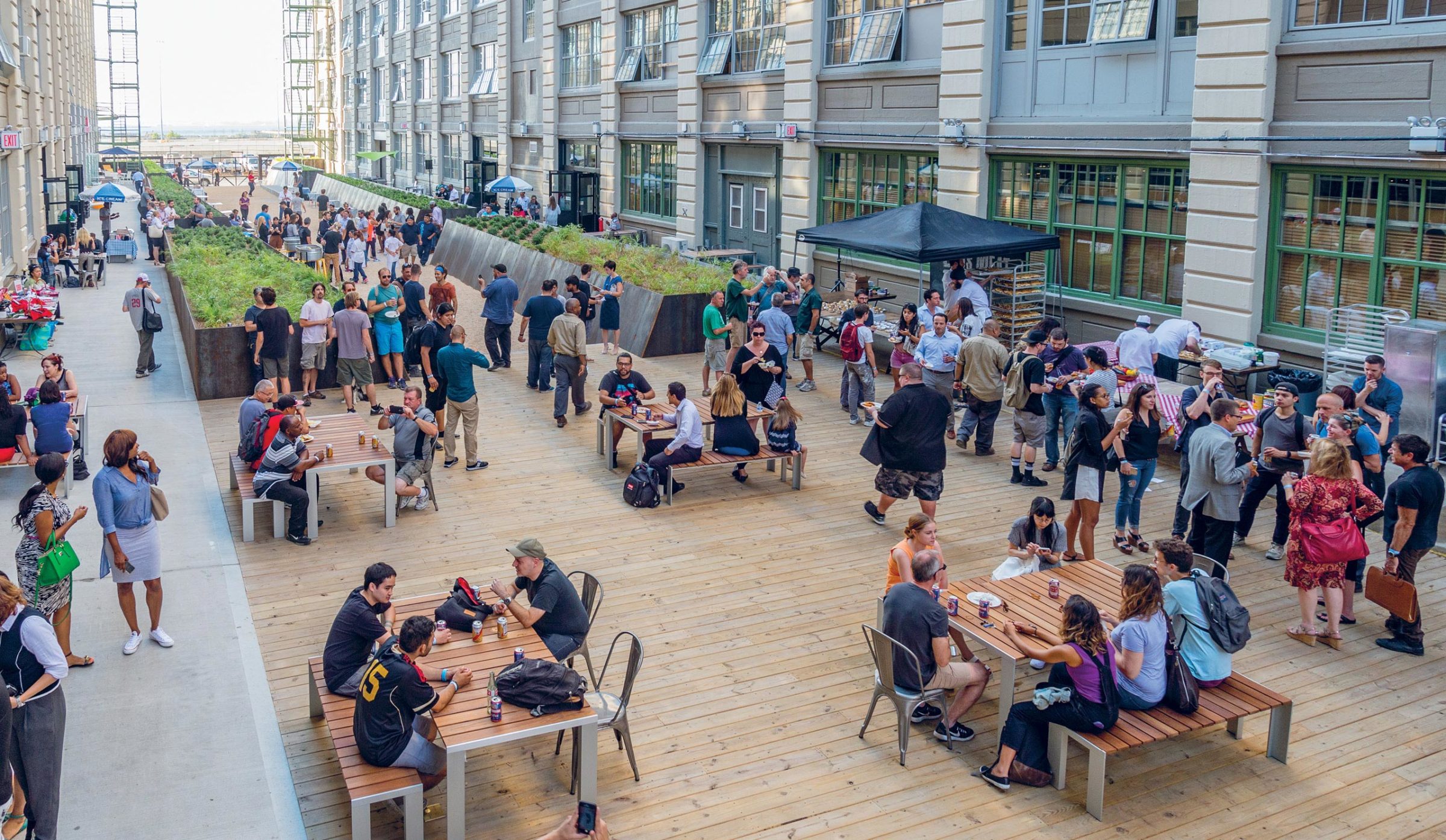 The old industrial precinct is dead. Welcome to the 21st century employment district. 
Insights
|

27 09 2019
We need to start thinking of industrial precincts as employment lands, fertile ground for business creation and experimentation. Mixed-use commercial hubs and 'Enterprise Precincts' are the new model — vibrant, active working communities with strong links to surrounding neighbourhoods and economies. The right solutions will become magnetic destinations that have the potential to meaningfully increase rates psm. To help with understanding the opportunities of this emerging sector read on.


01-THE RISE OF "SMART SPECIALISATION"
Its undeniable that we're in the midst of a global economic and manufacturing evolution. But don't be fooled. It's not happening in the sky-scrapers of our CBD's, but in repurposed urban landscapes. Think of some of the major innovations of the last decade, either in services or products. Were any of these born on the 35th floor?
A new kind of model is emerging. 'Smart specialisation' is a term characterised by initiatives that develop clusters and capabilities around unique local strengths. In cities such as Berlin, New York or San Francisco, the growing relevance of smaller scale economic activity to a culture of innovation, means an 'ecosystem' perspective is necessary to nurture economic development and city planning.
What we like to call the new 'District 21' – is competing for government and community support as well as investment, tenants and visitors. By anchoring these precincts with infrastructure such as a sporting stadium, shopping centre, commercial area or educational institution, social hubs are created. These anchors act as catalysers.
02-THE CHANGING ROLE OF THE LAND
The land. It's where we continue to create and make, to provide services, and to trade on – but not without change. In Melbourne, Sydney and beyond, government at all levels is re-thinking policy as employees and companies alike want maximum flexibility with how and where work gets done.
Things like Enterprise corridors (NSW) and Commercial 3 zones (VIC) mean more mixed-use employment zones are emerging, facilitating the establishment and growth of creative industries, small manufacturers and start-ups, including new models of industrial, commercial/office and other employment-generating uses.
"As the industries that we require and the way we do business evolves, so too will our uses of (industrial and urban services) lands. At the Commission, we foresee a shift away from tradition industrial and manufacturing lands, and freight and logistics hubs into complex employment lands … home to smart manufacturing of advanced robotics, artificial intelligence and clean tech industries." [Lucy Turnbull, Chief Commissioner, Greater Sydney Commission, The Place Economy Vol 2]
03-THE AUSTRALIAN STORY
The majority of standard production has gone offshore. Surviving industries are more capital intensive, combining technology and recruiting well-trained workers. Design and development, often for the purposes of delivering a customised product, is on the rise as are systems and solutions (often IT related).
Meanwhile, online shopping's success means fulfilment and distribution warehouses keep the flow of goods churning across our cities. Distribution goes hand in hand with maintenance and repair. Welcome to the Tech Workshop (or tech-shop). These facilities usually act as member-run studios where small scale manufacturers, makers, entrepreneurs and creative artists access state-of-the-art equipment to collaborate and build innovative and technologically advanced products.
04-THE ROLE OF A PLACE VISION AND PLACEMAKING?
Employment and industrial communities are just that – communities. Like all others they require and deserve strategic and creative planning and execution. They are places – of employment, of industry, of exchange and entertainment. Sometimes they have interesting pasts. Always they represent crucial futures.
To realise value, support decision-making and mitigate risk, a place vision should be the first consideration. This process will create a blueprint that guides and shapes the precinct. Resolving this early – even before planning or architecture – is fundamental to creating a successful District 21.
Communication and curation count. While it's challenging to create the right mix with a large group of property owners, the best places resemble an ecosystem, where synergistic relationships form between people, organisations and places. A mix of public-facing (food production businesses with a retail front) and interior only (think super clean tech machines) businesses are best.
05-EVERYDAY NORMAL: VERTICAL WAREHOUSING & CO-WORKING
Vertical warehousing:
The rise and dominance of e-commerce continues to alter the way companies do business across time and space. As the needs of consumers evolve, internet retailers continue to find logistics solutions in major cities, slashing transportation costs and making high-speed delivery more convenient. Retailers are turning their sights to dense, urban areas to fulfil the demand for this high-speed delivery.
In 2016 online fashion retailer The Iconic struck a $2 million-a-year industrial lease for a warehouse in Sydney's west (the size of three football fields). Across the Pacific in New York City, 2505 Bruckner is a state-of-the-art multi-story urban logistics facility servicing 9.4 million people within a 24km radius.
Co-working:
As we wrote in Volume 2 of The Place Economy, over the past decade, co-working has changed the landscape of commercial real estate to become one of the core drivers of office (and workplace) innovation. No longer a disruptor, co-working is now a unique and complementary element of the office market in its own right, with further substantial growth predicted.
Each co-working space is relatively distinct by nature, catering to its market, city, specific location, building type and floor plate. Some are skewed to specific industries.
And everything is now a co-working space: coffee shops, gyms, social clubs now restaurants — but only before dinnertime. For the past two years, a start-up called Spacious has been repurposing restaurants as co-working spaces in the hours before they open. Users have the option to purchase a $US20 day pass or choose from annual, monthly, or three-month memberships starting at $US129 per month. Spacious was last valued at $US29.1 million in May 2018.
06-RIVERMAKERS – HOYNE CASE STUDY
Rivermakers is the transformation of Brisbane's largest business park within 10kms of the CBD. It includes an industrial, trade centre, commercial spaces and a heritage precinct. Hoyne's Place Visioning™ for Rivermakers established a precinct zoning plan to determine the site's various uses and identities, ensuring it would be activated by a range of different target audiences from 6am to 9pm. Click through to read more about this project here.
Global sites to watch
You Might Be Interested In: